Wednesday, June 29, 2005
A nice wednesday for today when I am going to updated my happenings for last week. Actually, it was always the same thing going on and on...you know...work...so the only thing that is speical is what I did for weekends. On last Friday, I met up with my friends to celebrate the birthday of my 2 friends at Swensens. Their birthday have already passed long ago but it is the only date that everyone is able to make it for the celebration. Trie ice cream cake for the first time...and it is Swensens's made. So no doubt that it is one of the best ice cream cake I have tasted. It is mango flavour and the first time I had an ice-cream cake. But maybe I would not want to try a 2nd time..not bcoz it is not tasty but bcoz it is expensive...
Later on the Saturday, met up with the same group of friends for a lunch. Played some arcade games and shopped a while. I didn't bought anything but already got an idea what to buy. Then...in the late afternoon, I rushed home to get prepared for my eldest cousin's birthday (mum's eldest brother's only son). His name is Charles and wife is Amy...ok...Surprised to know he got a Christian name coz he dun have one when he was young I suppose...coz I remember calling him by chinese name. Ok...we didn't really talked for many many years...till now..he is like 32 yrs old...i dun even remember as well....but I think we never really got tok for 10 years.
His wedding was held at the Republic of Yacht Club. Ok...if you wondering where it is...I can tell you it is very near PSA and NUS. It really totally sucked on that day coz my dad or my mum...whatever...remembered the wedding venue was at the Keppel Club...so we went to wrong place....and made such a long trip. GFot so many calls from my uncles...telling me those road directions when my parents say they dun understand...asked me to handle the call. I dun understand as well and my brain was going haywire...with the caller commanding loudly on the phone. My ear was too tired to analyse what they toking about...coz I can't find the road signs they mentioned. Later in the part...then I know we are travelling in another road from what they say, but can still reached the destination.
My uncle kept mentioning "turn at NUS!", "you don't know where is NUS meh?"...hey...my dad really dun know!! I think that is the reply I shouted back. I was so angry about it....maybe bcoz I was kind of thinking...I not studying in NUS...how my father know where is it??
It is always so weird to meet up with those stupid relatives whom you never saw for long time...not bcoz I hated them...but the questions they asked. They will asked so what you studying now...and if you going to university if u answered you finished your diploma. I am not angry about it...but when you keep replying u not going to study...the more I answer, the more I feel myself abit useless. I am trying hard not to think about it and plan of earning $ for my future...but those stupid idiots are destroying my thinking....my plans...everything. On Sunday, went to Jurong early in the morning with my mum just to see her getting served tea by the newlyweds. Ok...so that Charles' mum cum asked me so you studying...what...and so on. I told her I finished my diploma and she asked abt uni. I dun feel like toking to her after a short argument with my mum on the taxi when on the way there. My mum was kind of praising Charles being a Doctorate and a school teacher. I was telling her stop that coz she dun even care about that last time...now..just bcoz of a wedding...she started her praises.
So, Charles's mum was saying "hey...why dun go Australia study uni? your aunt is there..." I told her no money and full stop...that is it. But then she repeated again...and sucks. It is so irritating. In my brain was thinking of various problems that may surface...and I was afraid of. Even if I got the money to study overseas...I am really scared of studying and choosing the right course. I think I dun have 100% confidence of doing anything and afraid of failure...wasting all the money...Even if got the chance to go...I think I can't even decide the right thing I want to study. Should I stick to IT or change another course?? I don't want to do something I can't be confident of.
Toking abt the thing I want to buy...I went to Giodarno to get a pair of pants at about $20+....it is the last day of offer so I wouldn't want to miss it out. My mum was toking to me in the morning on Monday...when I was half-awake...asking me whether I need money coz she have not given me any money since start of June. I know she meant well but I think I would not want to take any. I got some pay form my temp work and it still can cover my living costs. She was kind of pestering me to study in SIM....I am sure is due to the "psycho" of her friend..Wilbert uncle..toking abt she will support me if I want to study. But the problem is I dun even know what I want. SIM is not cheap either and I dun wan to take up a course coz she allows me to. Currently, a lot of temp staff just got fired...and reason given was the Survey is ending soon. Now...only left 10 ppl, plus me. I know it is not long that everyone will be gone. I should prepare yslef of getting sacked...and to decide what to do later on.....

Simplicity is Freedom.

created my post at 5:02 PM

Monday, June 20, 2005
Just a brief summary of what I have done for the week. Last Sun(12/6), it was like a family day for my family. This is because it is different from other days...ok..I am talking a bit out of point. Firstly, last week, my parents not working on Sun as there was no fairs. So, my mum suddenly suggested a trip to East Coast to cycle. You can say that this type of request is like only happen in a blue moon. We cycled for about an hour plus. Then, it started to drizzle. We then went off to return the bicycles and rushed back to the car. Actually, there is alot of stuff to see at East Coast, the beach ....got a lot of ppl playing with water, nice park, kite flying etc. Only problem is too crowded....and I am always afraid that I may hit anyone. My cycling skills are not really good....I think learnt it when I was like Primary 6....with a bicycle borrowed from a neighbour. And really...I didn't cycle much....so no practice...I am quite weak....in the sense of my cycling is not really stable..the bicycle will move left and right...
I always wnted to buy a bicycle....only problem is my parents find it stupid to buy one...but I dun think that is a problem coz there is a park just beside my house....so why not? They say we can jus rent one..haha...but heard from my sis once that the bicycle stand at my home park has closed down.
On the recent Saturday, I wet to my cousin house...actually going to help her format computer...in the end...the computer works fine back...so lucky computer...dun wan me to touch it....so in the end...we went to Jurong Point to help my cousin to get a black mouse...to match the black keyboard she bought earlier. I got 2 original VCDs at $12. Cheap rite? Coz the choice is limited, gotten "The Enemy of the Gates" and "Save the last dance". Quite worth it, i think. On Sunday, I watched the Save the last dance. Not too bad...Also completed my hk king of yesterday show. Also watched d/l Ice Princess. Simply to say....TV day for me on Sunday. But during the nitetime, when my parents are back, we had some cheesecake together...which me and my sis bought. Also gave my father a bottle of wine as Father's Day gift.

Simplicity is Freedom.

created my post at 3:35 PM

Monday, June 13, 2005
As you can see from the photos I updated, I am going to blog something on food. I have taken the photos using my handphone and MMS to my email address. Coz just found out recently that it is just 5 cents per MMS sent during the month of June. For M1 subscribers only...so others...back off..it is between 9am to 5pm daily...so other times, dun send MMS.
Me and my cousin went out on Saturday and I treated her for dinner at Thai Express. Not those expensive meal and we didn't order much. What we had was just a plate of sweet & sour stir fried noodles with chicken and a plate of side dish...can called it popiah. We shared the food together as we were not that hungry. Altogether cost $15.90...with those GST and service charge. We ate at the outlet at Esplanade. It was the first time I went there. There were some singing performances by the riverside. Quite a lot of people are supportive of the performances. Didn't know there are so many artistic people in Singapore.
Went to Marina Square at tthe afternoon befer that. Although some part of the shopping centre is open, I think it will be better when everything is open...then go there and shop. Saw Quan Yifeng and her husband, Bryan Wong, Mark Lee's wife there. There was this opening buffet held a their new hairstylist shop. Then, saw another wedding gown shop..got Chen HuiHUi in there...if not wrong, it is the shop of Vivian Lai's husband. So many stars are interested to open a shop at Marina..business-minded.
Just a photo of me and my cousin at the esplanade there. We didn't really specially take the photo. Main part was trying to take the Fullerton Hotel scene ...the nite scene ....thus me and my cousin was standing far apart...

Simplicity is Freedom.

created my post at 2:17 PM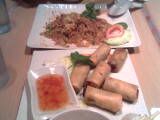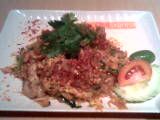 Simplicity is Freedom.

created my post at 12:27 PM

Wednesday, June 08, 2005
Good afternoon. Today is going to be a great day coz I bought the VCDs of the hongkong show called The King of Yesterday and Today..it is just shown on TV at 10pm on Channel U. I bought from Auctions so it is quite cheap...i mean non-orig...but can watch and keep...is good for me.
I know is a funny show....so can the discs and next time can just lend to my cousins in australia to see. Since they dun have any chinese dramas there. I also got my pay today ...quite early coz the supposely 13th of June falls on the 3rd week.And thus the company pay earlier this time. Not much actually....just few hundred $. But is already very satisfying coz it is much more than what I got for intership. I think maybe I can get some DVDs to watch or anything I want...urh..haven think of it...but sure need to save abit for my phone bills....internet bills....never ending la.
I watched Madagascar last last Sunday with my sister. Very cute show...just that too expensive and short la...now all movies are very short...not even 2 hrs....poror movie industry...

Simplicity is Freedom.

created my post at 2:17 PM