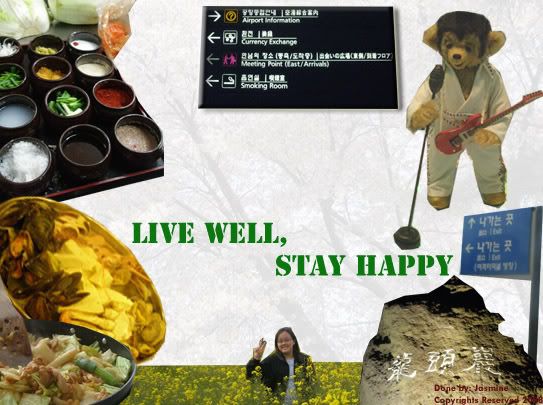 Wednesday, May 12, 2010
About 2 more weeks and i will be leaving for a week's holiday. Visiting 2 cities at one go is my first attempt. Hopefully, the stopover in Hongkong to Seoul is smooth on that day. Luggage packing will be much easier since it is gonna be early summer weather in Seoul and Hongkong. Hotels have been reserved. Now, only left the itineary which we need minimal planning since we are only there for 3 or 4 days for each city. Probably,we will just wander around the major tourist districts and explore great food for our meals. The most important thing is I can take a break from work. Is my 1st visit to Hongkong and I really hope that it is a smooth one.
I just shifted from 10th storey to Basement 2 in office due to department relocation. So I am now located at the utmost bottom floor of the building :( No windows but 4 walls. However, I have new workstation and furniture so that is an added advantage. Luckily Mediacorp revived the Internet Radio streaming, otherwise I will have to enjoy my own MP3 music in Basement since I can't receive FM radio there.
Now that the VV Drama 10.30pm slot on Queen Seondeok has completed its series, my family suddenly lost our senses and started to watch boring shows from Channel 8. But, thru a twist of events, everyone starts to watch taiwanese drama, "Down with Love". I do too, while continuing to watch Brilliant Legacy on Sats. VV Drama just started "Cain and Abel" on Sun nites, medical drama, looks nice but Monday got work, how to watch leh? But i will try la...

Simplicity is Freedom.

created my post at 11:51 PM