Sunday, September 23, 2007
Yesterday, Jessie and I needed to settle our own dinner. Well, we got a chance to enjoy a free buffet due to someone's birthday. It was a last minute invitation, but since my parents were unable to make it due to work, we were not keen on it as well.
After Jessie's tuition is done, she called to ask me how we settle our dinner. Me, a self-proclaimed couch-potato cum money-saver, of course, said, "Let's go to the hawker centre opposite our house to eat." She immediately complained, "NO! I want to eat something expensive, with air-con." Okok, I already understood her intentions. Muz be restaurant/cafe food lor. Jessie was mumbling that she got money.(since she is receiving her tuition pay on the next day)
In the end, we had our dinner at Wan Chai Hong Kong Tea Room, newly opened at Junction 8. The service is so-so, not much seating area. More like a low-class cafe. Luckily, it did not included service charge and additional GST in their bill. Else, I sure not going to patronize it anymore. I had 7-Up float and a Pork Baked Rice. Jessie ordered a Chickent with Mushroom Baked Rice and a Ice Yuan-yang drink.
Unfortunately, Jessie was so unhappy that they served chicken breast meat instead of chicken leg in the baked rice. I was telling her the "picture" shown on menu is for reference. Very normal for the food to be served diferrently. It's just 7 bucks, dun complain lah.
- Our baked rice are served piping hot with complimentary lotus root soup!
After dinner, we proceeded to Popular bookshop to buy some stationery, eg. glue, paper for Jessie 's scrapbook-making. Then, it was her turn to accompany to Best Denki to choose vaccum cleaner. My current one at home, the vaccum pipe already "cut half". So, when I vaccum, my back aches. Intended to get a new one for my family to vaccum at ease. At first, we spotted this Panasonic brand vaccum, light and small, selling at $89. Then, there came the salesman. He recommended a Philips brand vaccum cleaner...keep on emphasising this filter which keeps air clean. It does not use a vaccum bag and can save $ in the long run.
In the end??? We bought the philips vaccum cleaner at $179. Jessie willingly sponsored $50 and I paid the rest. The cleaner also cum with 2 years warranty. Overall, I am quite satisfied with the purchase.

Simplicity is Freedom.

created my post at 6:03 PM

Saturday, September 22, 2007
In mid-August, there was a "biscuit display" held at the shopping centre near my home. It was some sort of challenge to get into Guiness World Records for using Jacobs'biscuits to create the eight places of wonders. Here are some of the photos I have taken at the atrium when I passed by it then. Sry for uploading the pics late.
- Paris Eiffel Tower
- India Taj Mahal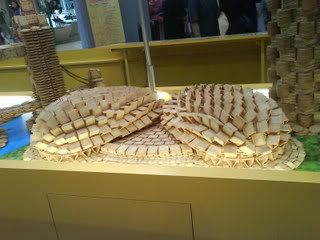 - Our Own Esplanade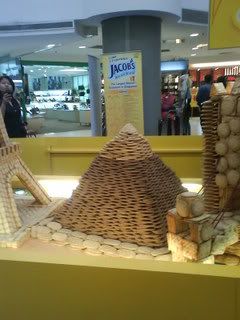 - Egypt Pyramid
- Great Wall of China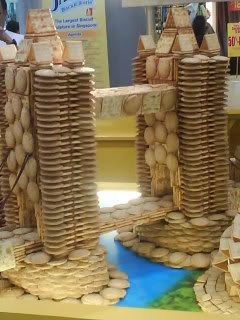 - some sort of tower which I dun remember what it is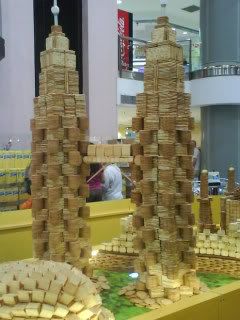 - KL Twin Tower
Labels: Biscuits, Junction 8, world records

Simplicity is Freedom.

created my post at 3:36 PM

Friday, September 07, 2007
Finally, the Fireworks Celebrations started! There were two countries presenting their works at Marina Bay, Spain and China. My friends and I went to view the fireworks by award-winning Spain. Catch a glimpse of the fireworks I have uploaded here! Urh, due to space contraint, not able to capture the full view. And upon my friend's "feedback", they dun like the previous remix videos (cum with jazz music). So, this time round, I uploaded the full video with "live" sounds. Hope you like it!

Simplicity is Freedom.

created my post at 11:25 PM

To continue my August journey, I met my friends for my birthday celebration. We went to a Japanese restaurant called Waraku at Clark Quay. Still need to call them for reservation. Heard it is a very popular restaurant. Ya...ya..Japanese food again. But it was my first time visiting, so I dun mind having Japanese food again. Ala Carte, not buffet style lar. After dinner, we still went ahead to have additional dessert - cakes at a classy-like cafe...urh...forgot the cafe name.
It was a good experience and I hope to visit the other Waraku Pasta restaurant someday.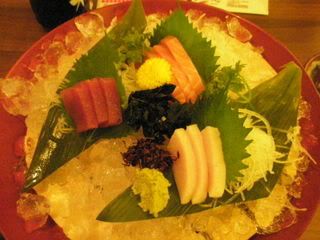 - See the fresh sashimi served! Hehe, my friend, Yun Yun, bought it and treat me! Haha...thanks! I never really ate this type of "high-class" sashimi before except those sashimi served at budget buffet tables.
- Ordered Curry Udon for myself...Still Mini version!
- Desserts! Super delicious! Who can resist the temptation!!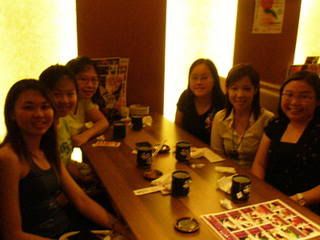 - A group photo taken at Waraku just after dinner!

Simplicity is Freedom.

created my post at 11:12 PM

Haha...is more than a month I last posted. I was so occupied to do other stuff, watching chinese movies and dramas, going out etc. Anyway, I am going to update all I can today for my activities in August. Is the birthday month! Me, my sis, and Singapore's birthday!
On 1 Aug, I took leave from work to slack at home. In the evening, my family and I proceed to Kuishinbo restaurant at Suntec City to have eat-all-you-can Japanese Buffet. As it was a Wednesday, we also get to enjoy the Ladies' Special. Haha, that means my dad can save some money. Check out the spread of sushi and dessert we had!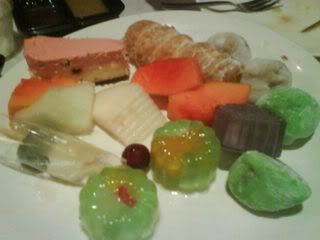 - Sushi,Cakes and Konyaku Jelly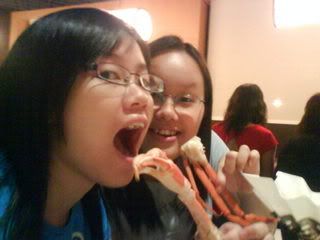 - Crabs!!! I love it!

Simplicity is Freedom.

created my post at 11:01 PM