Friday, March 20, 2009
I spent some time at the nearby music store near my home after work. There is moving out sale going on and about 20 patrons in the shop. I was in the shop for 45 minutes, looking around for good bargains. Unfortunately, I can't really guess the songs thru CD covers and spent a lot of time wandering around. In the end, I bought 2 sets.
1) Love 101
This is an album I wanted to buy since I saw the commercial. This is price-controlled item since it is released in Asia only. No discount but I got it at $20 bucks for 101 songs which means is just $0.20 per song! With lyrics too. Haha~
2) The Great Wedding Album
This is a 2 CD-in-1 pack. I got it for a colleague whose birthday is coming up next week. I think she should find it useful in her upcoming wedding. But I still wonder if it is awkward to give such a gift for brithday? Pardon me for my un-thoughtfulness. (I always think I am like that but I don't have good ideas about gifts)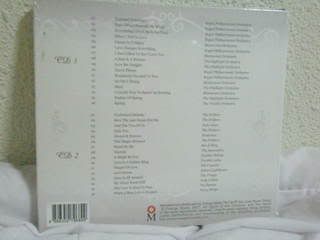 Simplicity is Freedom.

created my post at 10:52 PM

Wednesday, March 11, 2009
I have consolidated a few nice short videos from KBS World and Arirang TV recently. The shows are entertaining and I uploaded the some of them in my youtube account now and then at http://www.youtube.com/tsukey1985. If you enjoyed it, just leave a nice rating :)
Recently, I am kinda busy with my work. Got a couple of UATs to test on which interrupts my daily work duties yet I am glad I have something to do. Economic crisis is just the beginning, companies are retrenching staff, closing down etc. AND...I am glad that I am not greatly affected by it. I am pleased with the PB awarded for my work done last year and promotion by a grade coming April. Well, not much of a difference since since it is just a change in salary range. Please let me meet my $2K salary if there is any increment. (i have waited for 3 long years and my neck already going to be like 'giraffe'...& not 'zebra')
February passed by too soon and is March now. I hoped to enjoy March with great anticipation of April holiday break. Just not too far away, is my favourite IT show this weekend. I also found out that Supreme Court is having its first Open House this weekend as well. Should I just drop by to take a look? I mean, I may even be stepping in to a Supreme Court in my lifetime, unless I am joining the "POLICE" or "THIEF". So since I don't meet both categories, it is reasonable to pop by at the open house, isn't it? Part of the programme to be held include reenactment of "Who push Humpty Dumpty". I really think this sounds fun.
Just watched this evening news : Asian Civilization Museum is displaying authentic Qing Dynasty antiques for the 1st time in Singapore eg. dragon robe, armor, paintings from this coming Fri to mid-June 09. It was mentioned that this is one of highlights and there will not be much other displays in the near future due to low sponsorship for the museum in view of the economic crisis. I am gonna mark my calendar for this.
To sum up, we must always go ahead and enjoy ourselves whenever possible and in our ability. Recently, there are unexplained deaths and people explained that possible reasons are stress/depression faced by the victim himself/herself. Media will explain all the stuff on counselling and relevant assistance are in place for these people. With our hectic lifestyle and conservative mindset, people still resist in seeking professional advice and sink deeper into depression and lead to unthinkable situations. So why not free ourselves from such problems and start thinking positively in whatever we do? Even some thing does not happen to work the way you want it to be, take it as an experience and perform better the next time round.

Simplicity is Freedom.

created my post at 12:28 AM